Two Bible verses that changed my life – Steve Harvey reveals
Broderick Steven Harvey popularly known by the name Steve Harvey (born January 17, 1957, Welch, West Virginia, U.S.), is an American comedian, actor, author, and television and radio personality who was launched into the limelight by his charisma and comic personality, he later became famous as a relationship coach and motivational speaker.
However, in a recent Twitter post, Steve Harvey shared with his followers two bible scriptures that helped changed his life.
He said,
"There are two scriptures that changed my entire life, and if you do these things, they will change yours. Firstly, James 4:2, "you do not have because you do not ask," and secondly, Habakkuk 2:2 "write the vision and make it clear."
He buttressed further: So many individuals do not live up to their full expectations because they don't ask God for divine direction. They try to figure out their life-purpose all by themselves without consulting their maker.
I did so for 30 years, all by myself, and it didn't work. You are God's child. He created you. " "You are not here by accident, and he gave us a simple instruction; just ask."
READ MORE: Meet Tye Tribbett Daughters: Austyn Taylor and Lyncoln Victoria
Steve Harvey bible verse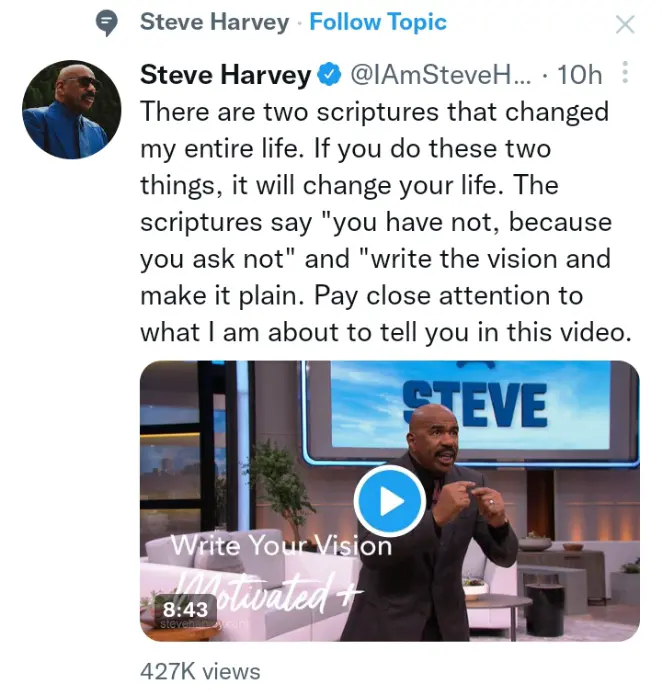 The next line of action in life is to write out your vision, make it clear(plain) and run with it. Meditate on your vision daily until you see it manifest. This has been he secret of every successful person. I have met some wealthy people, who after showing me their vision boards, Challenged me to be more serious with mine.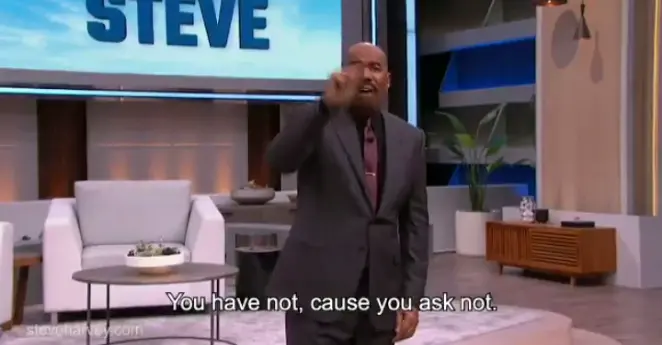 In his concluding words, He said: "Do this two things and you will have a better and meaningful life."
Steve Harvey's Career
Right from a tender age, Steve Harvey knew that he wanted to be on TV. He held tight to this vision. Despite the ups and downs he he encountered as a stuttering African American boy in the 1960s. Steve's family didn't have much, but their lives were full with their faith. Prior to when Harvey became a renown person, he made a promise to God that if he made it, he would thank Him and spread the word. Harvey honors that promise by thanking God at the end of every show and by sharing his gratitude with the audience.