Sydney Granville Elton (also known as Pa Elton) left his home country, England, to come to Nigeria in March 1937, in response to a divine call of God to be a missionary to Ilesha. Ever since that time right up to his home call 50 years later, Pa Elton was always at the centre of revival. Pa Elton's Prophecy about Nigeria in 1986 still stands that there is still hope for Nigeria.
Pa Elton was a revivalist-instrument used by God to wrought a lot of revival in Nigeria, and his minstry birthed the likes of Apostle Ayo Babalola, Benson Idahosa, E.A. Adeboye, W.F. Kumuyi e.t.c.
The numbers are a clue that Nigeria will be one of the world renown and populated countries in the world, its population will be an advantage for it to compete in power and resources just like the other famous countries such as the United States of America (USA) and China.
So many years before Nigeria gained her independence, in 1937, a young missionary by name Sydney Granville Elton; who as directed by God, left his home country, England, to Nigeria to fulfill his God-given assignements. Recall that Nigeria, haven been under the british colony, got her independence in 1960.
Pa Elton's Prophecy About Nigeria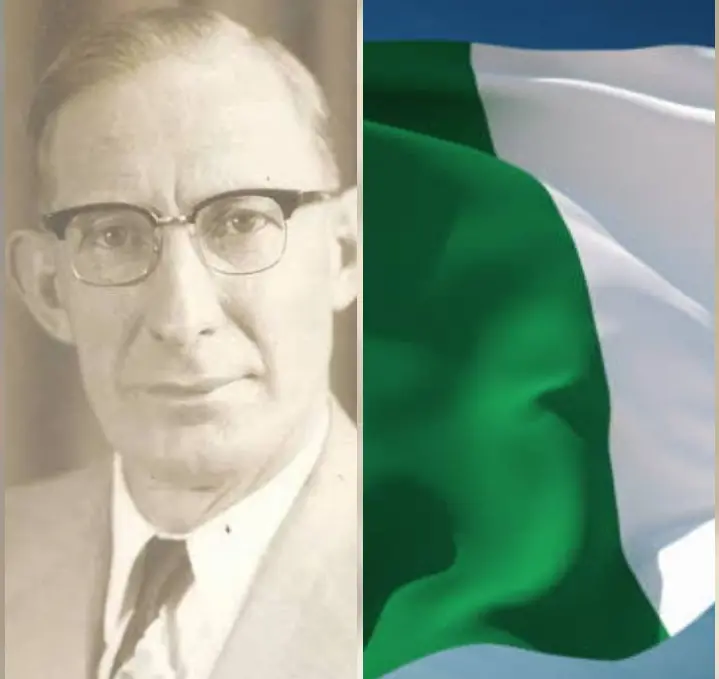 In the last days of Pa Elton, in 1986, he delivered a prophecy about Nigeria, in which he said: "Nigeria and Nigerians will be known all over the world for corruption. Your name – Nigeria will stink for corruption but after a while, a new phase will come – a phase of righteousness. People from the nations of the earth will hold a Nigerian and say, " We want to follow you to your nation to go and learn righteousness.'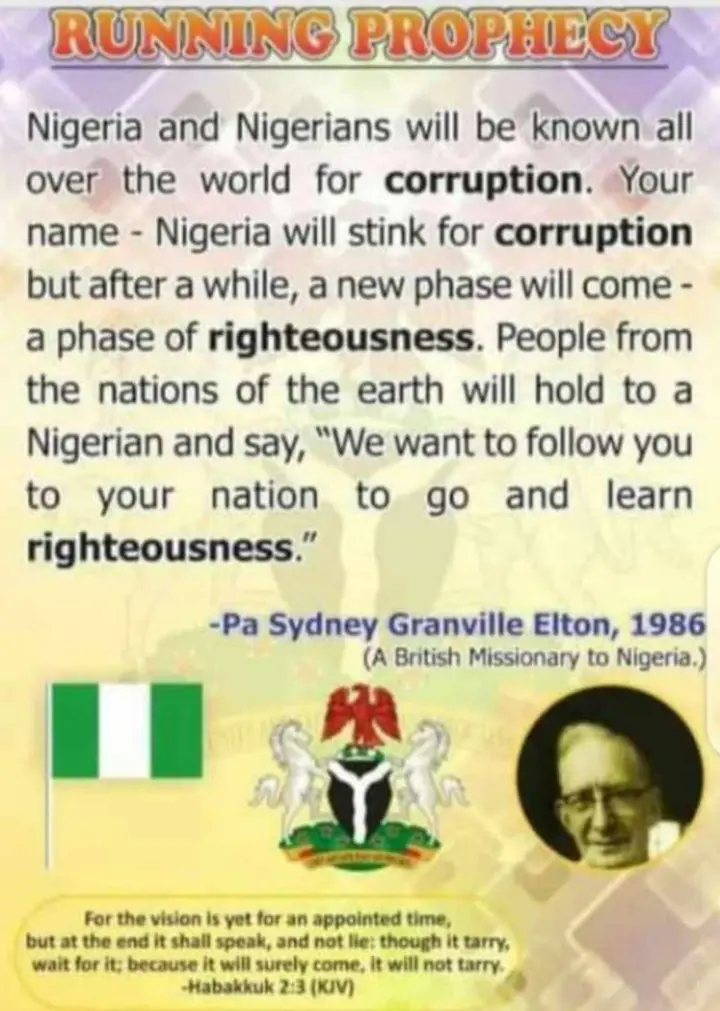 And just one year after Elton gave this prophecy, he died. It has been over 30 years since Pa Elton's Prophecy about Nigeria was given, and the situations in the country Nigeria have played out just as the phrophecy said it would.
As we speak, Nigeria as a nation has been plagued with some negative happenstances, for example, corruption, money laundering, internet fraud, and scam, etc, and as a result, many nations do not want to be involved with Nigeria in business.
A critical look at Pa Elton's Prophecy about Nigeria and for Nigerians shows that the prophetic fulfilment is still in its first phase. However, the second phase of the prophecy reveals that Nigeria will experience a drastic change, so convincing it will be that the nation will now be called 'righteous." Nigerians are prayerfully awaiting the fulfillment of the secom phase of this prophecy.
Breif Biography of Pa Elton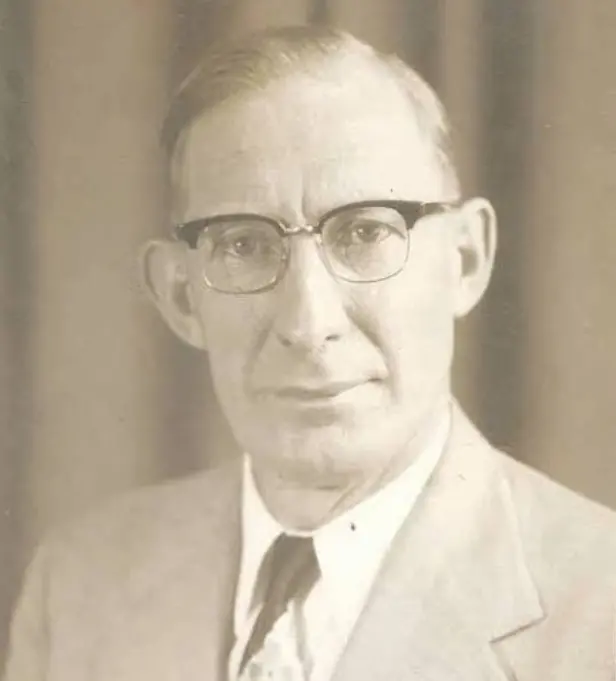 He was born in England. In 1928, Pa Elton began to notice his call to ministry after reading a book by Mary Slessor. Before he got the call to missions, there was a burning desire in his heart for the gifts and manifestations of the Holy Spirit in the church.
He later joined the Apostolic Church in England where he learned about the gifts and manifestations of the Holy Spirit. God began to speak to him about his call to Nigeria. God even told him the exact place he was to go – Ilesa. He was so sure of his call that he named his dog, Ilesa before leaving England.